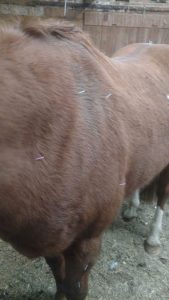 An acupuncture appointment usually begins with a thorough performance evaluation followed by needle application and possible electrical stimulation of problem areas.
Most horses (even "needle-shy" horses) are very accepting of the procedure. In our experience, every horse benefits from this procedure, even if only for relaxation purposes.
Many top athletes will benefit from routine maintenance visits every 3-4 weeks during the busy season. We find that neck, back, and shoulder stiffness especially responds well to this treatment.
If you have any questions about our services or to schedule an appointment, don't hesitate to contact us today at (701) 391-9556.