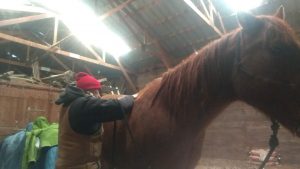 Cedar Creek Equine Performance is proud to serve Hettinger, ND and surrounding areas. We are dedicated to providing the highest level of veterinary medicine along with friendly, compassionate service.
We believe in treating every patient as if they were our own horse, and giving them the same loving attention and care. We are a group of highly trained, experienced animal lovers who are devoted to giving our patients the best care possible.
A Note From Dr. West:
As a horse owner myself, I know how time consuming and expensive it can be to haul a trailer-load of horses (or one stubborn one) to the vet for a simple procedure. Treatments and appointments get missed because it just can't work in your schedule.
I believe in creating practical solutions that make sense. Mobile services can be easily provided in almost any setting, and I really enjoy being able to work with you and your horse in an environment in which everyone feels comfortable.
Each animal deserves to be the best version of itself. They deserve to be pain-free and healthy; however, there are ways to accomplish this without turning them into drug addicts. Improved performance doesn't always involve a daily Rx for painkillers. This is why I added acupuncture as a complementary/ drug-free therapy with proven results. Yes, I take Motrin when my back hurts, and yes, I give my older horse Bute before a long hard day. I don't believe in withholding needed meds, and I want you to have your "just in case" pharmacy in the trailer when you travel. We'll come up with a plan to keep you going all season long, and I'll tell you when I think your horse really needs a break to rest and heal. Take a look at the services portion of the page to see what kinds of things we do on a daily basis. Other services are certainly available by request. Our travel area is extensive, so group rates and multi-head discounts help everyone!
For questions about your animal or scheduling, call (701) 391-9556, use our Contact Form, or send a message through our Facebook page.